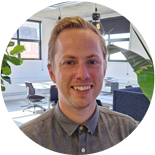 ---
I am a fullstack software developer with a passion for system design and problem solving. I especially enjoy building systems that require unique and innovative ideas to succeed.
My work accelerates when I work in teams with other likewise passionate people, where projects can grow beyond just my ideas and capabilities. As a teammember I am not afraid to take responsibility and enjoy planning and collaboration across teams to unify and bring projects to life.
My background as graphic designer, video editor and advertiser have given me a unique set of communication related skills, that enhances my ability to present and visualize complex computer science related information — to other computer scientists as well as laymen.
Talks:
Automation and reliability
Viborg Game Expo – fall 2023
---
Reimplemation and experimental development
Aalborg University – fall 2022
---
Skills
c#
unity
project management
fullstack
game logic
networking
big data
data-analysis
system design
graphics
communication
backend
svg
java
automation
.NET
version control
javascript
HTML
CSS
debugging